Exxaro Tiles Targets European and US Markets for Growth
New Delhi (India) : In keeping with Exxaro Tiles Ltd's upward growth trajectory, there have been noteworthy developments pertaining to our performance. Capitalizing on our premium products continues to be one of our key strategic priorities. In line with this, our most recent milestone has been the new order worth Rs. 35-40 crore, which we […]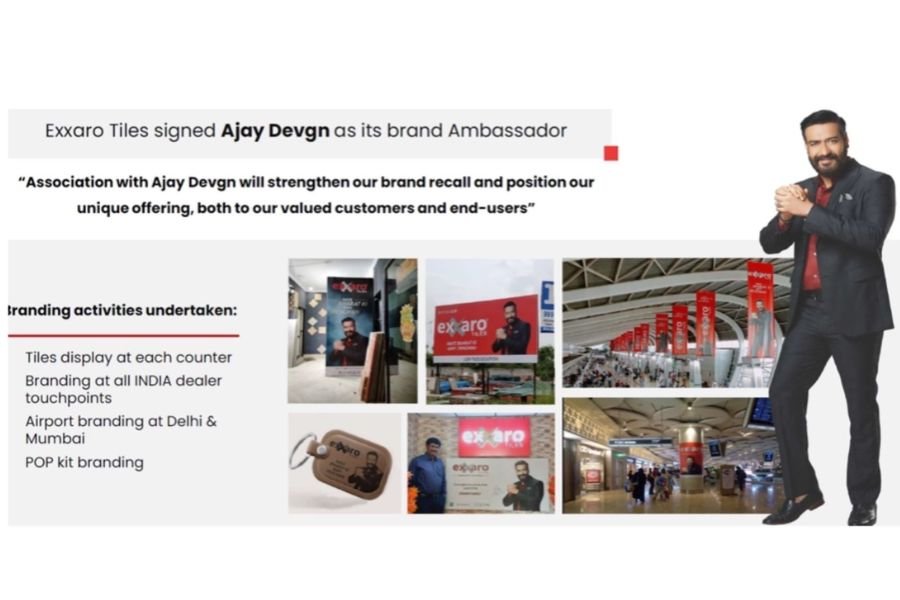 Exxaro Tiles Targets European and US Markets for Growth
New Delhi (India) : In keeping with Exxaro Tiles Ltd's upward growth trajectory, there have been noteworthy developments pertaining to our performance. Capitalizing on our premium products continues to be one of our key strategic priorities. In line with this, our most recent milestone has been the new order worth Rs. 35-40 crore, which we bagged from big size GVT slabs, including 1200×1800 size, our highly premium product and including our other sizes as well in Vitrified Tiles segment
Earlier, in May 2022. Exxaro had singed Indian Bollywood Actor Ajay Devgn as its brand Ambassador to endorse its tiles products. Commenting on the Company's most recent developments and ambitions, Mr. Mukesh Patel, Chairman and Managing Director, said, "Product innovation and improvement continue to remain our key focus areas. Our eyes are on the premium products mix, which yields higher per-unit value on margins. The latest order for Big Slab has been a laudable feat, furthering our goal of fortifying our premium segment's reach and performance. Also, we are thrilled to share that our recent exhibitions in the USA received a great response, steering us towards developing export markets. The demand for our products remains robust in the USA, resulting in improved exports for that region and strengthening our focus in that market. We will continue to set newer benchmarks in the industry while staying nimble-footed and growth-driven."
About Exxaro Tiles Limited: Exxaro Tiles is a leading name in the ceramic tiles industry, offering the most innovative range of tiles since 2013. Through its two main product categories-double-charge vitrified tiles and glazed vitrified tiles-it offers attractive and long-lasting vitrified floor tiles. The Company will offer a new Big Slab in replacement of Granite and Marble in October 2022. Exxaro is a company that was founded with the goal of forging a distinctive character in the tiles sector. With a sophisticated product line that epitomises beauty and style, the Company has distinguished itself in the sector. The Company currently sells its goods to over 10 countries and has more than 2,000+ touchpoints across 25 states, mostly in South and West India. Owing to the long ties with the dealers, the Company is able to grow and supply its products for significant infrastructure projects. Its present annual capacity is 14.60 MSM across two plants – at Talod, Sabarkantha, Gujarat, one of the biggest manufacturing plants of GVT in India and the other one at Padra, Vadodara, Gujarat. On Friday,
Shares of Exxaro tiles are currently trading at Rs 130 a piece. Leading research house market analyst and brokerage firms expect the stock to touch Rs 5000 in the 1-year time frame.
During Q1FY24, the company recorded promoter shareholding of 42.07%, an FIIs stake of 4.13 and a public stake of 53.80%.
With the construction industry booming, the tiles and bathroom accessories market is expected to grow, which can make Exxaro a multi-bagger stock in the coming days.