Gyan Sagar Classes again Provided Highest Package and Selections in CMA/CS/CA
 Today in talk with Director of Gyan Sagar Classes he explained how Gyan Sagar classes is working in the field of CMA CS CA ,In short span of time GSC is able to provide packages of upto 27 lakh in CMA campus many students got Placed in reputed companies like Vedanta,  Coca-Cola, ITC, GAIL, NBCC, ONGC, IOCL, Accenture at very handsome packages followed by average package on 9 Lakh.They are providing Offline, Online live and recorded lectures to the students across india.In talk with the students we came to know why it is best coaching for CMA/CS/CA.Recently many students from GSC scored many All India Ranks in CMA due to advantage latest technology classes with recorded backup and best infrastructure. Now they have started Batches for CS & CA which got very good response from students. Faculties of GSC Like Akshay sir,Shivam Sir,Dilip sir,Priya mam,Juhi mam,Dinesh sir are expert in their respective fields.They are also providing marathon and revision classes on time to time basis on their YouTube channel named CMA AKSHAY SEN.Their test series is also best in whole India.When we researched about their extra-curricular activities we also found them best in that as well they are organizing Sports tournament on Time to time basis.GSC recently celebrated their Annual Function in which CMA/CS/CA students gave performance on various songs. So in our research GSC has become best CMA/CS/CA coaching in India due to various factors.For more details you can visit their website: www.gyansagarclasses.com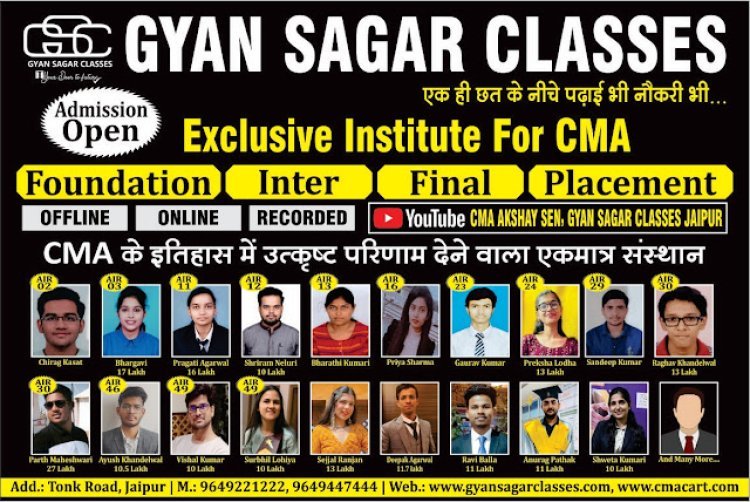 Gyan Sagar Classes again Provided Highest Package and Selections in CMA/CS/CA
Today in talk with Director of Gyan Sagar Classes he explained how Gyan Sagar classes is working in the field of CMA CS CA ,In short span of time GSC is able to provide packages of upto 27 lakh in CMA campus many students got Placed in reputed companies like Vedanta, Coca-Cola, ITC, GAIL, NBCC, ONGC, IOCL, Accenture at very handsome packages followed by average package on 9 Lakh.
They are providing Offline, Online live and recorded lectures to the students across india.In talk with the students we came to know why it is best coaching for CMA/CS/CA.
Recently many students from GSC scored many All India Ranks in CMA due to advantage latest technology classes with recorded backup and best infrastructure. Now they have started Batches for CS & CA which got very good response from students. Faculties of GSC Like Akshay sir,Shivam Sir,Dilip sir,Priya mam,Juhi mam,Dinesh sir are expert in their respective fields.They are also providing marathon and revision classes on time to time basis on their YouTube channel named CMA AKSHAY SEN.Their test series is also best in whole India.
When we researched about their extra-curricular activities we also found them best in that as well they are organizing Sports tournament on Time to time basis.GSC recently celebrated their Annual Function in which CMA/CS/CA students gave performance on various songs. So in our research GSC has become best CMA/CS/CA coaching in India due to various factors.
For more details you can visit their website: www.gyansagarclasses.com